We get asked all the time from new customers to explain the rental process to them.  Usually upon return they share with us how easy the experience was, and that they will be repeat customers!  We wanted to share with you exactly how easy the process can be.
This scenario involves items required for hosting an intimate family event of 6 people.  All inventory is broken out by a separate line item on your rental contract making it easy for you to understand what exactly you are ordering, and allowing you to customize the order to your preference, and for the nature of event you are hosting.  (We rent in dozen and half dozen quantities but sometimes make exceptions for special occasions like Thanksgiving and Christmas).  Included are photos to help visualize the process.
First things first- our staff pack the requested items for you, and await your arrival (or alternatively schedule with you a time to drop off at your home.)  Within the photo is a foldable 6' table, 6 white folding chairs, a dishware tote, glassware bin, and cutlery tray.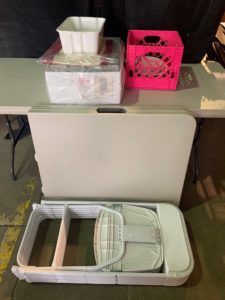 Yes – you can fit the tables, chairs and place settings required for 6 people in a Honda civic, and here is the proof!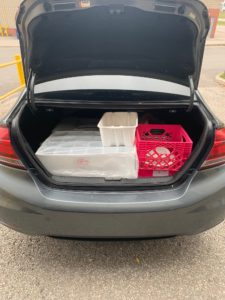 Second, simply unwrap the rental items and place them in the space that you plan on hosting.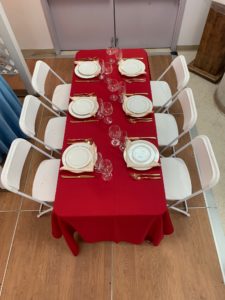 Next, sit back, relax and enjoy the company of friend's and family.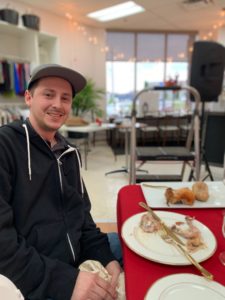 Once finished, simply scrape off the dishware, cutlery and glassware and place back into the bins we have provided.  It goes without saying, but this will save you loads of time.  We take care of cleaning, sanitizing and re-packaging all inventory.  Lastly simply return to us and we take care of the rest.
We can help make special events this easy for you, and give you more time to focus on hosting.  If you would like to do the same simply complete an online quote request, or contact a rental specialist today.